When I was 12 years old in the year 2000, I went into our basement family room to join my older sister and brother just finishing up a movie. I would later learn the specifics: the French film Amelie. It was just wrapping up but I saw the last few scenes. There was a darling girl with short hair squeezing her new beau on the back of a scooter. She was grinning from ear to ear and the whole scene was just zooming on her smile. There was no talking, just happy accordion music in the background.
At that moment I decided I needed a scooter. I hadn't ever seen a vespa before and I couldn't believe what fun it seemed to be! From that day on, I started saving my pennies.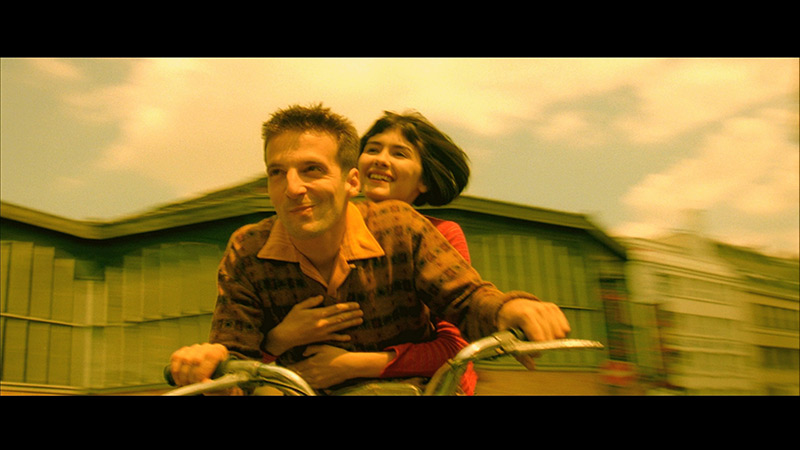 Now we're talking literal pennies here, because I didn't get an allowance. I did babysitting and yard work and I did mailed invoices for my dad's company (fold paper in thirds, stuff it in an envelope, seal it, and put a stamp on it. This is also the period of my life when I decided a mail woman would be the perfect job for me :). I've always been quite frugal with my money. My parents had us use a check balance book to keep track of all our money, instead of handling cash.
I distinctly remember several times when a friend would call and want to go to Seven Peaks or go buy ice cream or something, and I would think, "No way, I'm saving up for my scooter." My parents would encourage me to go and that I would have plenty of time to save up but I just knew it would cost a lot of money. But looking back, I don't think I ever actually knew how much money it would take. We didn't have the internet back then and I don't remember ever going to a store to look for one. I just knew it would take a lot and I wanted to have it.
Fast forward to 2006. I'm newly 18 years old, about to graduate from high school. It's a Saturday afternoon. My dad comes into the kitchen and asks for some help unloading our white suburban. I don't remember anyone else being there except my mom, but we walked out to the garage. He opened the trunk and there stood the most beautiful red and cream scooter I had ever seen. I flipped out. What was this? Was it a joke? Who was it for? Where did it come from? And most importantly how much did it cost, did I have enough money? I remember the moment being amazed and excited but also confused and concerned. Ha! I'm sure I started crying. (These are the moments that we should have had video on our cell phones long ago.)
My dad explained that he bought it as the "family scooter." I could ride it, but my siblings would get to ride it as well. I was ecstatic. It was the most wonderful dream come true. And I didn't even have to spend any of my own money.
That summer, I studied up and practiced riding, but my mom would only let me ride it in the church parking lot. In the fall, I started at BYU in Provo which is normally a 30 minute drive from our house when you use the freeway. My parents didn't have a trailer back then, so I knew I needed to drive the scooter to Provo so I could take the riding portion of the exam for my motorcycle endorsement for my driver's license. I think it was late September because I remember it was cold. I bundled up as much as I possibly could and made the long trek via State Street to BYU. The scooter tops out at 35 MPH (40 if you're going downhill) so the commute was quite long. I'm sure 1,000 cars passed me on State Street as I tried to go as fast as I could in the slow lane. Looking back it was probably quite dangerous to be going that slow on a large street but I didn't' know any other way and I wouldn't have been able to use any GPS mapping system on the scooter to find a back route. I was a bit scarred from that long journey that was at least an hour and a half. And I vowed to never go back on a street that had a speed limit of more than 35 MPH.
The next day, I drove to the DMV in Orem. Sat for my written exam and passed. Then took the driving test where I had to slam on my breaks and swerve around blocks in the road that the test giver would throw in the air and I just had to watch and be a defensive driver. Jokes on her. That driving test was the most dangerous situation I've ever been in on the scooter! Ha!
I drove back to my BYU dorm room with my head held high knowing I had passed and could officially drive the scooter anywhere and everywhere!
College was hard. I'm sure it's hard for everyone, but I know that other Mormon teens have a special struggle at BYU. I was leaving the chamber choir, soccer team, student council, super involved in extra circular activities and felt a high amount of self confidence between my grades, honor classes, and accomplishments away from school. I felt like I worked hard and deserved to be at a tough college like BYU. But then I went there and everyone I met was just like me. There were certainly variations in our background, but there were a lot of high achievers who dressed the same as me and wanted the same things in life. There were plenty of times when I wished to be more different or have some sort of an escape. The scooter brought that for me. The mileage of this thing is amazing, 100 MPG. So it means I could go on a long cruise for hours at a time if I wanted, and the gas dial would barely move a centimeter. It was amazing. I'd have an argument with a roommate and escape on a drive. A boy would break up with me and I would process it all with a long cry and a scooter ride.
If you're new to the world of riding, one of the most amazing things about being on the road is that you can sing and scream at the top of your lungs and NO ONE WILL HEAR YOU. It's incredible. My most common tunes on the scooter were of the Carole King variety. For some reason, I would start up the scooter and immediately "Way Over Yonder" would pop into my head. I would belt it so loud and feel the wind in my hair (under the helmet of course) and all would be right in the world. I remember being in a Beatles phase and I sang "Help Me Rhonda" and I had a lightbulb moment. The Red HONDA was my Rhonda. I started calling her Rhonda. When I was particularly upset and needed to go for a ride, I would sing "Help me Rhonda, help me get her out of my head."
When I graduated from college, we brought it back to Alpine but shortly after I ended up moving to Dallas and it didn't make sense to take it to Texas. Especially with how much driving I did on the freeway. When I moved back to Utah, my dad gave me and Greg a great deal on it and I got to commute to work again with it. It was the highlight of my day! When I met Greg we immediately bonded over our love to ride. He told me later that it was important for him to bring up his motorcycles on a first date because it can be a polarizing subject. Not only was I a fan, I had my own motorcycle license too and our love story began to blossom. When we first got married, we'd go on rides where he would ride his motorcycle and I would be beside him on the road in my scooter. It was cute and stuff. Greg loved riding it too and would take little drives around the neighborhood.
Now that we have Lars and I'm pregnant again, I haven't had as much of an opportunity to ride it around. It's now July and I've been considering selling it since March but I always get too emotional when I think about it! I've dedicated an entire therapy session to figuring it out and lots of chats with Greg and I think I figured it out.
It's a sentimental item for me even though it doesn't make sense to keep it right now. I love that I worked hard for it. I love that my dad surprised me with it. I loved how it defined me and made me feel different. I love that it was a common thread of bonding with Greg early in our relationship.
And now that I'm stepping into a new chapter of my life, it's a bit of a grieving process to let go of the ease and care free way I got to live before I had to have a loaded diaper bag and car seat whenever I leave the house. I now see the scooter as a way to let go and fully embrace my new stage of life. And I'm confident that as soon as it makes sense, we'll get another one for me to putter around town.