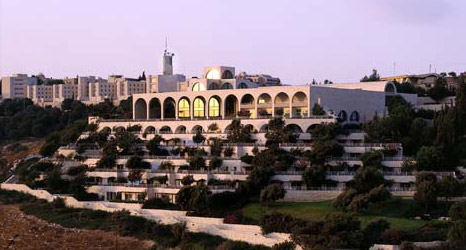 I like food. I think I like food too much. I was going through pictures today and all the ones I want to post are of delicious things I have made. But ok first things first. I am going to Jerusalem in September! I am so thrilled that finally after a year of submitting applications and being on waiting lists, I am officially going. This is a picture of the center. My friend explained that there are 3 hills that consist of the Mount of Olives and the BYU Jerusalem Center is located on one of the three, Mount Scopus. Isn't is beautiful? I will live there for 4 months!
I am really excited, this is something I have been wanting to do since I was in high school. But I am really scared. I have been spoiled and so far I have never been away from a family member for more than two or three weeks. And not only is this a study abroad, it is in the Holy Land with as Melissa says, "domestic violence... and then she said well maybe a better phrase is civil unrest." Ha, either way it is dangerous and my mom is really scared too. I have been having nightmares of crazy things happening to me when I am there and then I wake up and think, "Oh no I have to get my name off the list right now." So hopefully the excitement will push away all my fears.
This month of June has been filled with lots of family hangouts, going through pictures, kissing Tillie's face way too much, spider bites and rashes for all (we need pest control!), and lots of good food. Here is a little show of the happenings.
These apartments were close to mine in the Spring. They are so pretty and I want to live here someday before I die. But only when the flower pots are in bloom.
For my parents 31st anniversary, we all celebrated by eating good food instead of them paying way too much for a restaurant. They are nice to let us party with them. We made shrimp kabobs with bell peppers, onion, zucchini, cherry tomatoes, and yellow squash marinated in this herb and garlic stuff. Delish!
Then we had to document the night since everyone was home. Cute that we are matching.
While Melissa and Aaron were here, we had a surprise party for my aunt. My cousin carried this cake on her lap for 4 hours for the celebration. Way to go Kim!
Last but certainly not least on the fun scale for this month... my friend Sean and I made mosaics. Neither of us knew what we were doing so we just bought a bunch of stuff, broke it with hammers and grouted it on. I will have to take a picture of the final project. They turned out pretty cool and helped me get even more excited to travel to the Middle East!