First day of school in 5th grade.
Can't remember who gave me this shirt, but it started my love for hand-me-downs.
As I like to say, "One man's trash is always my treasure."
A few weeks ago, my friend Rachelle gave me a bunch of her old clothes. This was the second time she let me go through her donation box and I loved every minute of it. Most girls really like shopping and although I do enjoy seeing the latest and greatest in the fashion world and window displays, I hardly ever buy clothes. So that feeling of excitement that most girls get when they approach the cash register, eager to carry their bag around the mall... is the same feeling that I get when someone that I love (who also has great fashion sense) tells me that they are getting rid of clothes.
I think this is the 3rd post I have done about clothes since I moved to Texas and there is a reason for that. Clothes, especially fancy onces, are a big deal in Texas. Most of my friends growing up were athletes and even though we cared a little about clothes, we mostly cared about what we accomplished. Which was great, and in my opinion, the best way to establish your roots.
In college I was exposed to many more fashionistas but I typically surrounded myself with people who dress simple, practical, comfortable, with really great taste.
Now I live in Texas, and spend all day at America's largest private advertising agency. And let me tell you, if you've ever heard that advertising agencies have lots of really pretty people who dress really well, you are right. There are lots of heels, colored pants, statement necklaces, voluminous hair, clear complexions... or just picture the people in your favorite fashion magazine, and you will have the right visual.
When I first moved here, I found it very intimidating. Between the people I interacted with at work and then going to church and being told I need to buy more high heels or people saying, "Let's go dress shopping for you" ... I started to feel not too great about my appearance. Add some weight gain and you end up feeling a bit of disappointment.
My awesome roommate, Shana, and I have talked about this a lot and we like to visit stores quite a bit. There are so many in our neighborhood. Think of any clothing store chain that you love. There is a 90% chance that store is within a 7 minute radius of my house. Shana and I found ourselves going shopping a lot in our downtime. Sometimes we would buy things but most the time we would try stuff on and then decide, "Ok, I really don't need this..." and then we would leave.
Then Shana had a brilliant idea in late September. She said,"Let's have a no-repeat October." I was intrigued. She wanted to not repeat any tops for the entire month of October. I looked around at my closet and thought, I bet I can go the whole month of October without repeating pants, skirts, shirts, or jackets. Which is a little sick to think about. But I decided that if I can repeat tank tops, undergarments, leggings, socks, and shoes- then I could really come up with 31 different outfits.
I am happy to report that I did it.
It was hard.
It took a lot more time in the morning. I sometimes repeated a certain cream sweater that I really love and since it was new, I felt like it was ok to repeat because it still had the newness I was excited about. But I learned a lot in the month of October. Here are a few of my tidbits.
1. At least half of my clothes were not purchased by me. I have many, many hand-me-downs.
When put to lyrics, my wardrobe is a lot like the song "Tapestry" by Carole King.
My life has been a tapestry of rich and royal hue

An everlasting vision of the ever changing view

A wondrous woven magic in bits of blue and gold

A tapestry to feel and see, impossible to hold
My wardrobe has little bits of memories from the people who gave them to me in their hand-me-down box. It's really fun. Like this morning when I woke up, I put on Melissa's brown velvet pants and added Emily's cream cardigan and her gold flats from Target. And when I looked in the mirror it was like I was with my whole family. Ok, this is getting deep. But really. It's nice to have these physical pieces from my sisters when I don't get to see them too much. Sometimes I look at blogs written by girls who take pictures of their outfits everyday and then they say which stores every piece of clothing is from. If I ever did a blog like that my clothing credits would look like this:
Shirt- Laura Goodrich's mom, Val, bought this, but Laura didn't like it and it was too late to return, so they gave it to me.
Sweater- My co-worker, Jason accidentally put his J Crew lamb's wool sweater in the dryer and then it shrunk so he gave it to me. Score!
Pants- From my sister
Tank top- From the give-away box that my mom saw at her friend's sister's house. Thank you Aunt Cheryl! The gold camisole from Express is one of my favorites!
Shoes- Zack Golden's (my mom's best friend's son) old adidas shoes that have lasted me so many years.
2. You should never spend good money on an item of clothing that is "for road-trips."
I have learned now, that I have way too many linen capris that I bought thinking "these will be so great for when no one will see me and I will be stuck in a car for 8 hours."
3. Things come back in style.
I bought a light denim long sleeve collared shirt from Gap in the middle of high school, a good 6 years ago. I thought it was a risk and I only wore it a couple times and then probably once a year since then. Every time I cleaned out my closet, I would give that shirt a good stare and analyze its purpose and use in my life. Yep, getting deep again. So many times, I would take it off the hanger and then set it down in the give-away pile. But I always came back for it and rescued it. I am happy to report that the shirt is back in style. You know that denim chambray shirt you see all over pinterest that just happens to work with every outfit you could imagine? Yep, my shirt is exactly like that. So you could say I was ahead of the fashion world by 6 years. No big deal.
4. Creativity loves constraints.
One of my art professors told me that and I think about it at least once a week. I didn't take any pictures of my outfits, because I don't want to be that blogging fashion girl- if you know what I mean. But let's just say, things got a little crazy. I had to break out of the usual routine of this shirt with those pants and that accessory. If I had worn the item already, I hung it backwards on the rod. Thus, skirts were paired with tops that would never seem to logically go together, but actually looked quite alright. I came up with a some new combinations I would have never imagined. I re-evaluated the clothes I like and why I like them.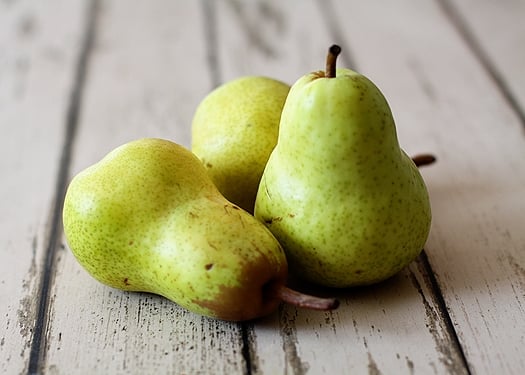 5. I embraced the pear in me.
As I observed which outfits worked and which did not, I re-learned that it is good to know my body shape and dress for it. I am a pear...which may or may not be caused by my love for the juicy pear jelly belly jelly bean.
When I was in junior high, my friend Steven commented on a skirt I was wearing. He said,"I really like it when you wear skirts. I don't know why, but it just seems so natural on you." That's all due to the pear shape, friends. Should have taken his advice sooner!
6. Do unto others as you would have them do unto you.
I moved last week and when I hung up my clothes in my new closet, I gave each hanger a good look. I asked myself, "Do I enjoy wearing this? Have I worn it in the last year? Will I be excited about wearing it ever?" If the answer was no, out it went.
So little Lizzy, get excited. 3 boxes of clothes and shoes are coming your way.
image up top, courtesy of my dad.
image of denim skirt
image of pear